Paperless Payroll Online Features
Real Time Processing.

Do payroll when you want. Available virtually 24 hours a day 365 days per year

Unlimited access to enter, send, receive payroll information
State of the art encryption and security for payroll data

Instantly updated tax information

Online payroll reports, check stubs and other vital payroll data



Can be used as a Delivery Method, which eliminates Paper
Access can be granted to whomever you designate, including your accountant.

Additional Payroll-related Features:
Employee Self Service
GL Exports for multiple financial software platforms
Paperless Payroll Reports accessible forever by Macs or Windows
Hundreds of reports
Powerful Report Writer that goes across the entire database
Mobile Features Video/Walk through
Control & Manage Your Information When You Need it
Tiered security ensures that only appropriate personnel have access to update or change information for others within your organization 24 hours per day, 7 days per week virtually anywhere with a standard Internet connection on a Mac or Windows device.
We couple your payroll data with Time, Benefits, HR and Workflows with one log-in to access your information.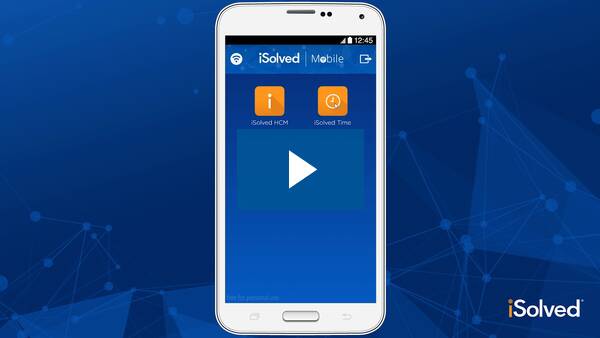 Human Capital Management in-Depth Demo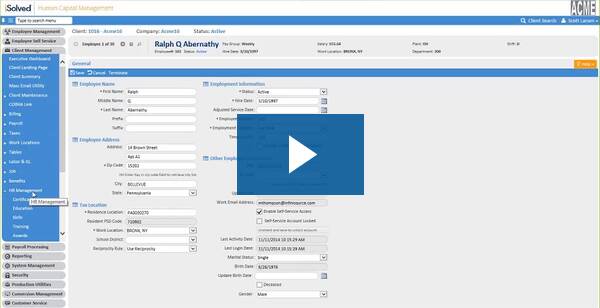 Benefit Broker Access Portal and Dashboard
Client data at your fingertips! The Benefit Broker Workbench is a set of tools and reports within iSolved that provides powerful insight into your clients. You can view your client data and produce reports in just one click! Quick, accessible reports enable you to continue providing the superior service you are known for!

Benefits Enrollment Demonstration
Easier, More Comprehensive On-boarding
On-boarding Employees / Employee Paperwork
Our paperless system notifies the appropriate personnel in a timely manner and takes them through all of the necessary steps, tasks and forms that are part of a proper company orientation. iSolved On-boarding will streamline and allow any New Hire to enter information directly into iSolved, avoiding multiple data entry.
Seamlessly manage, in a single platform, on-boarding and compliance documentation
Avoid bottlenecks with improved efficiency and data consistency
Workflow automation enables easy implementation, collection, tracking and storage of all forms and
documents
Built-in I-9 tool automates forms and processes for employees and managers
Electronic signatures can be used as a binding agreement

Affordable Care Act (ACA) Overview
Applicant Tracking Software (ATS)
No need to spend weeks customizing the recruiting process! The most modern, fully-featured applicant
tracking software available. It is completely web based and built on an open technology platform that's hosted securely in the cloud (SAS 70), and coupled with award winning, best in class interface.
Designed to improve the process of hiring people.
We understand that recruiting is a linear business process defined by a series of YES and NO decisions and from day one our system is configured to drive these critical decisions.
Time & Attendance with Scheduling Demo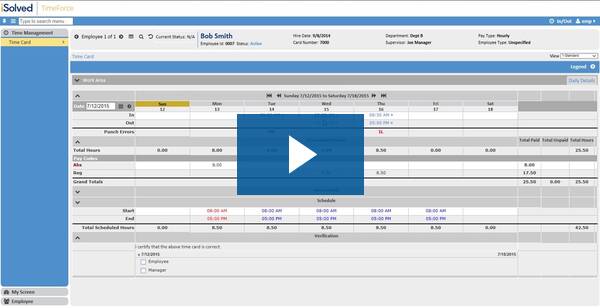 Designed for Ease of Use
We've built a point, click and drop reporting system that is extremely simple to use. Start with commonly-used, predefined fields and then add in the fields you need – with a simple click. Decide you want to remove a field and it's gone with another click. No writing SQL statements or needing to know report writing script. Simply choose and click in minutes!
With iSolved's Report Writer, you can:
Change your sort, groups and headers with a click.
Run your report by date range or by point in time.
Run for a single company or multiple companies
Produce PDF or Excel formats.
Client-defined classifications (Report Groups) of reports that can be used for security and role-based usage
Specialized Payroll Needs
Non-Profits / Social Services / Healthcare/Manufacturing